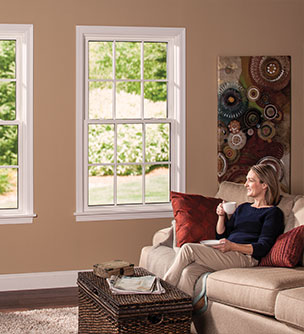 Sunrise Windows has been listed as a "Top 100 Manufacturer" by Window & Door Magazine, are Energy Star rated, and have won many achievement awards for their window quality. Sunrise Windows polyurethane-insulated windows have a high 7.14 R-factor for insulation, and multiple insulated glass systems that use between 8 and 1 layers of high-performance reflective metallic shields.
Double Hung Windows
While they look like a standard, simple window, these durable windows feature:
Easy operation with minimal maintenance (tilt-in feature, countoured lift rails, and dual-pulley Block & Tackle balance system)
Advanced, triple-weather-stripping seals
Polyurethane window frame insulation for added comfort and energy efficiency
Coved interior glazing bead
Rcessed pick-resistant locks for your security
Extruded aluminum screen frame with aluminum reinforcements
Sliding Windows
Sliding windows are easy to maintain and provide a maximum viewing area for homeowners who love the outdoors. Sunrise sliding windows feature:
Coved interior glazing bead
Polyurethane window frame insulation for comfort and energy efficiency
Lift-out sliders with dual brass rollers and a stainless steel axle
Recessed pick-resistant locks and night latches for venting
Easy lift-out sashes
Optional tilt-in sash for cleaning from the inside of your home
Casement and Awning Windows
Casement windows and awning windows create a perfect team for top-to-bottom sunlight in any room. They feature:
Stepped internal and countoured external design to minimize the appearance of the frame and sash
Stylish full-flip nesting hardware. This allows casement windows over 17 3/4" wide to open to a 90-degree angle so the exterior pane of glass can be cleaned from inside the home
Recessed single-lever, multi-point locking system
Dual weather system with seals to protect against draft
Polyurethane window frame insulation for energy efficiency
Low-profile and ergonomically design screen clip for easy screen removal
Bay Windows and Bow Windows
Bay windows and bow windows bring more sunlight into your space, making any room feel wide open and spacious. Sunrise bay and bow windows feature:
High-quality seatboards, headboards, and side jambs manufactured from furniture-grade 1 1/8" thick oak veneer plywood (compared to competitors' 3/4" thick plywood)
Optional Pionite laminates available on interior surfaces of bay windows
Anti-water penetration system
Bay angle: either 30 degrees or 45 degrees
Bow angle: 10 degrees
Specialty Windows
Sunrise creates specialty windows, including:
Garden windows for those who want a mini-greenhouse for kitchen plants and herbs
Geometric windows to enhance your home's architecture
Picture windows for lovely views
Projected frame windows for a classic appeal--and custom built for your home
Basement windows to give the darkest room in your home maximum light and security
We also offer other Sunrise products, including SunBlinds, SolarClean Self-Cleaning glass, OptiView sheer screening to provide an optimal view of the outdoors while protecting from insects, and PetScreen, a window screen which resists damage by dogs and cats but won't let insects in.
Sunrise Windows have some of the industry's lowest air infiltration rates. The triple weatherstrip barrier provides 50% more weather stripping than other windows, saving you money on your heating and cooling bills, and preventing dust and allergens from getting into your home. Additionally, Sunrise Windows have a lifetime warranty on every part of the window: windows, door frames, hardware, moving parts, insulated glass, and screens are all covered by a lifetime, non-prorated warranty.