Vinyl Replacement Window Installation in Elk Grove Village, Illinois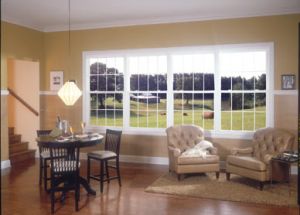 Meister Windows & Siding offers vinyl replacement windows, interior and exterior doors, siding, gutters, gutter covers, Soffit, Fascia and more to Elk Grove Village, Illinois residents. Meister Windows & Siding has been serving the Elk Grove Village area since 1963.
As a window contractor, Meister Windows & Siding installs some of the best replacement windows in the industry. We offer window installation for Soft-Lite, OKNA, Sunrise Windows, and Lindsay vinyl replacement windows in Elk Grove Village, IL. These great brands include double-hung windows, sliding windows, casement windows, swing and clean sliding windows, awning windows, bay and bow windows and garden windows.
OKNA vinyl replacement windows are a great choice as replacement windows in your home since OKNA windows are created with the Precision Weld to fit perfectly to any window frame. OKNA vinyl replacement windows are also energy efficient, and are available in a variety of OKNA colors to suit any decor, making OKNA vinyl replacement windows some of the most beautiful and reliable, whether you choose the OKNA 800 series, the OKNA 400 series, or the Enviro-Star series. Meister Windows & Siding is not only an OKNA dealer, but an OKNA window installer in Illinois. If you are looking for an OKNA dealer in Illinois and an OKNA window installer for your home, contact Meister Windows & Siding.
Meister Windows & Siding installs Alside vinyl siding, CertainTeed vinyl siding and Alcoa Mastic vinyl siding in Elk Grove Village, IL. Vinyl siding is low maintenance, and the vinyl siding we install can be rinsed easily with a hose when it needs to be cleaned. Vinyl siding is resistant to thermal changes, making your home more insulated and lowering your energy bills. We offer installation for all our vinyl siding, including vertical siding installation, horizontal siding installation, shake installaion, and even shingle siding installation. Meister Windows & Siding offers many different types of vinyl siding including vertical siding, horizontal siding, shake and shingle siding to provide our customers with options to suit their styles. We carry only the finest quality vinyl siding available and do professional vinyl siding installation in Elk Grove Village, Illinois, so that the exterior of your house not only looks great but also is energy efficient and maintenance free.
Meister Windows & Siding not only supplies replacement windows, but also supplies exterior and interior doors to Elk Grove Village, Illinois as well. Wausau interior and exterior doors are beautifully crafted by Wausau Supply and are built with premium quality components and workmanship for lasting value and performance. Factory finished for maximum durability, and available in over 80 paint colors and 8 stain colors to match your decor. Meister Windows & Siding offers options for your exterior such as steel doors, stainable steel doors, fiberglass doors, decorative glass doors, French glass doors and sliding patio doors. In addition to Wasau Supply Doors, we offer doors made by Albany Door Company, Soft-Lite, and OKNA.
Gutters and Covers Installation
Meister Windows & Siding installs gutter covers in Elk Grove Village, Illinois. Gutter roof is a type of metal domed system/cover to protect your gutters from debris that keeps them from working effectively. Metal dome gutter cover systems work the best for leaves and other organic debris in Elk Grove Village, Illinois. The concept is simple. Debris falls on to the gutter cover, where most of it blows off with the wind. The remainder is rinsed off with the rain. Typically, the debris falls off at the "nose" portion of the gutter cover, while the water follows the rounded contour of the nose of the gutter cover and falls off when it reaches the straight edge in the gutter cover. This keeps your gutter able to transfer water easily while not getting blocked by preventable gutter debris.
Whether you are looking for replacement interior or exterior doors, quality replacement windows, new home siding, or gutter covers for your home in Elk Grove Village, we can help. We offer quality products and professional installation to keep your home in great condition.