Meister Windows & Siding offers Gutter Roof, a type of metal domed system that acts as a gutter protector. These metal domed systems work the best for leaves and other organic debris. The concept is simple: debris falls on to the cover, where most of it blows off with the wind. The remainder is rinsed off with the rain. Typically, the debris falls off at the nose portion of the gutter protection, while the water through the process of surface tension, follows the rounded contour of the nose, and falls off when it reaches the straight edge in the trough system.
Most metal dome systems are constructed of .019 gauge aluminum, which is not strong enough to support the panels. Gutter Roof is constructed from .025 gauge aluminum alloy, which dramatically increases the durability of the panels. We have discovered that a 7" slot in the trough is the most effective size to allow incidental debris to be flushed through the gutter system, yet still supply adequate support to guard against warping and collapsing of panels.
The finish has always been an issue for other systems. Baked-on enamel finish (still used by the majority of the metal dome systems) eventually fades during the summer from being up on the roof and exposed to the hot sun. Dirt and tree resin forms a crust that not only makes the system unsightly, but affects the overall performance. Organic debris sticks to the crust and gets washed into the trough system and causes clogs. Some homeowners also complain about the noticeable contrast from the smooth baked-on enamel finish of the gutter protection and the gritty texture of the roof.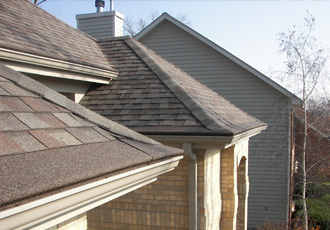 Gutter Roof's coating of roofing granules solves the issues associated with the esthetics of other products. Gutter Roof blends in with the roof much more effectively than the other finishes and will not develop the crusting associated with most metal dome systems.
The roofing granules enhance surface tension due to the additional surface area, slowing down the water and minimizing rainwater flyover. We have yet to see another system that water adheres to better than our new finish.
The most important ingredient to an effective system is trained installers. All the features and benefits to the homeowner are lost if the product is not installed properly. Gutter Roof has a training facility available in the Chicago area with classroom instruction and three rooms of practical application. Each room becomes progressively harder, and by the end of the course, the installers will have come across every roof application imaginable. Installers may not progress on to the next room until they perform consistent and proficient installs in that particular room. All installers that have passed the rigorous training course receive a Certificate of Merit from Gutter Roof.
Our goal has always been to have a product that works great and is unnoticeable on the home. Gutter Roof is finally the product that accomplishes this goal.