Patio Doors - Sliding Doors - Elegante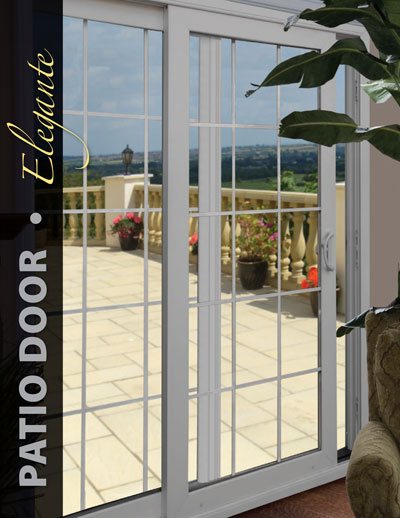 Thermally welded multi-chambered 5-5/8" vinyl frame provides superior strength and thermal insulation. The continuous double weather-stripping dramatically reduces air and water infiltration.
Interlocking meeting rail system with double weather-stripping for controlling infiltration of air, water, dust, and noise.
Anodized aluminum screen track, roller track, and threshold for increased strength , durability, and longevity along with an elegant appearance.
Standard installed handle/lock hardware.
Operating sash is equipped with adjustable, precision bearing tandem rollers for a smooth and quiet operation.
4mm glass unit with our Heatseal Spacer which gives your home excellent thermal efficiency and drastic reduction of condensation.
Full length heavy gauge reinforcements in meeting rails and pull rail provide great rigidity and strength.
Performance
Glazing Option
U-Value
SHGC
VT
CR
Energy Star
Minimum*
Comparison To
Energy Star Minimum
Dual Glazed
Clear Glass
0.43
0.54
0.57
47
0.30

Does not qualify

ESP Package
0.27
0.27
0.49
63
0.30
10%
Better
Deluxe Package
0.26
0.27
0.49
63
0.30
13%
Better
Triple Glazed
ESP Package
0.20
0.23
0.38
68
0.30
33%
Better
Deluxe Package
0.19
0.23
0.38
70
0.30
37%
Better
Deluxe Package w/Krypton
0.16
0.23
0.38
70
0.30
47%
Better

U-Value, SHGC, VT, CR values may slightly change for windows made with GBG (Grids Between Glass)
SHGC - Solar Heat Gain Coefficient
VT - Visible Transmittance
CR - Condensation Resistance
ESP - Energy Saving Package
CIT - Currently In Test
* Northern Climate Zone
Industry
Comparison To
OKNA Windows
Minimum
Industry Minimum
AAMA Rating
HR
60
HR
15
Air Infiltration cam/ft2
0.06
0.3
500%
Better
Water Penetration mph
59
33
79%
Better
Structural Integrity mph
187
94
99%
Better
Water Penetration mph - Specifies wind load pressure in mph window can withstand
without leaking, under rain equivalent to 8" per hour.
Structural Integrity mph - Wind load in mph the window can withstand before breaking.

All result numbers are based on tested window sample by NFRC & AMMA testing window guidelines. Use for comparison
purposes only. Actual values may vary depending on installation, size of the window, and other conditions.