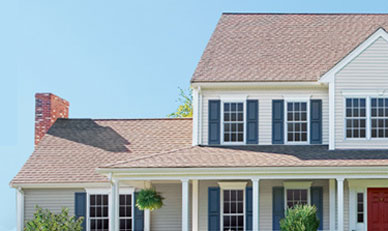 Alcoa Mastic Vinyl Siding
Bring together your vision for your home exterior and the beauty, performance, and reliability of Mastic's coordinated products — vinyl siding, soffit, Performance Metals® and Designer Accents. And then, with the help of the right contractor, transform your home exterior into your dream home. Click on the link below and discover why The Exterior Solution® is your exterior solution.
Today's consumers believe wholeheartedly in the old adage, "You get what you pay for." They're interested in product performance, low maintenance, workmanship and warranties.
Exterior beauty is important to them, because they know that first impressions count.
Dreamhome Visualizer — Get inspired and imagine what your home exterior could become
Vinyl siding's share of the market has approximately doubled in the last decade. While vinyl siding has risen in popularity over the years, traditional wood materials are on a marked down swing.
Vinyl siding is the most preferred material overall in both new construction and remodeling. In addition, vinyl siding has become increasingly popular in use in all home segments, from starter homes to luxury homes.